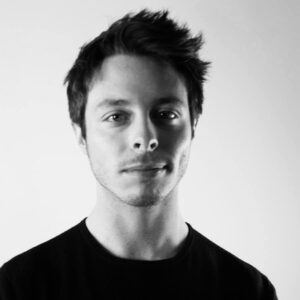 Interview with Mathieu Nolhier
Why did you decide to renew your experience as a jury member?  
It is always an honour to be a member of the jury of POUR FAIRE COURT. Last year, I had the opportunity to be accompanied by a great team and then to have the chance to watch some very high quality short films. It is a real inspiration to be able to compare and judge these works, whether they are shot in real camera or in animation. It's a delicate exercise but above all it's rewarding and I'm delighted to be part of this adventure again. 
What is your relationship with cinema? Examples of recent achievements?  
I have always had a deep love for the 7th art and I could not imagine the number of films I have seen in my life. For the last 5 years I have been a screenwriter and director of short films. My first festival prize was awarded by Pour Faire Court for my film Hélène. Since 2018 I have been living in England from where I wrote and directed Persona (12 minutes) and Armpit! (20 minutes) which is currently doing its little world tour of festivals. If you want to know more, you can watch the trailer here
What do you think of the theme chosen by the students/what do you think of the theme of POUR FAIRE COURT this year?  
Escape… After this amazing year of 2020, I think we all need it but we are still not as free as before so why not escape with films? I can't wait to see what original ideas the candidates have come up with to show us, for one evening, what their vision of escape is. 
What is your passion in life?  
Cinema, in all its possible genres. To see a film is to see through the eyes of a team of enthusiasts who have worked hard on a vision of the world. It's a journey that I repeat as often as possible. 
What can we wish you for 2021? 
I'm currently writing my first feature film script and I'm going to do everything I can to finish it by the end of the year. It's a big challenge, certainly my biggest to date, so wish me inspiration. As for me, I wish you all the best in making your wildest dreams come true and sharing them with the world!